5 Mystery Meat Boxes For Foodies & Culinary Adventurers
For meat lovers seeking variety and surprise, mystery meat boxes are a thrilling culinary adventure. These boxes deliver high-quality meats to your doorstep, providing a delightful blend of convenience and excitement. With 5 options to choose from, these boxes offer a surprise-filled cooking experience for foodies and culinary enthusiasts.
Disclosure: As an Amazon Associate, this site earns from qualifying purchases. Thank you!
1. Carnivore Club's Artisan Meat Box
First on our list is the Carnivore Club's Artisan Meat Box. As their tagline "Artisan. Handcrafted. Exclusive." suggests, this mystery box is all about bringing you closer to the world through cured meats from top artisans. Inside every box, you'll discover a diverse selection of premium cured meat snacks that are sure to satisfy your inner carnivore.
The box is jam-packed with delicious treats from Carnivore Club's favorite artisans, ensuring an exclusive and rich taste experience each month. Plus, you can expect to get excellent customer service, as evidenced by their 1,642+ positive reviews.
Quick Sidenote – check out our shop for a curated selection of the best meats, cuts, sausages, and more. Open our shop in a new tab and explore!
2. Butcher Box's Surprise Meat Package
Next on our list is the ButcherBox Surprise Meat Package. ButcherBox is known for delivering high-quality cuts directly to your door. They offer various subscription options, including the Surprise Meat Package, which is a specially curated selection of high-quality meat. They offer two sizes: the Classic Box, which includes 8-11 lbs of meat, and the Big Box, which contains 16-22 lbs of meat.
Their meat is frozen for freshness, safely packaged, and delivered in an eco-friendly, insulated box designed to keep your meat within the optimal temperature range. Plus, they ship it for free!
3. Carnivore Club's Gourmet Meat Assortment
The Carnivore Club also offers a Gourmet Meat Assortment for those who crave variety. Every month, you're treated to a new selection of cured meats from top artisans worldwide. The assortment ranges from salami, prosciutto, and bacon, to other unique charcuterie items. Each box represents a different theme or artisan, ensuring a novel gastronomic journey every time. Plus, their platform shows clear product information with options to gift these boxes, making them perfect presents for fellow meat lovers.
4. Crowd cow's Gift Box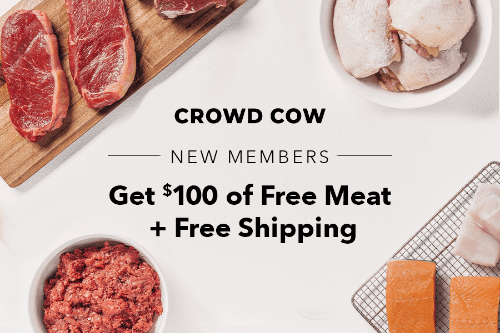 CrowdCow is an online marketplace for high-quality, ethically sourced meat. They offer meat box delivery services, where customers can choose from a variety of curated boxes or create their own custom box. When ordering a meat box from Crowd Cow, customers can select the types of meat they want, such as beef, pork, chicken, or seafood.
The meats are sourced from independent farmers and ranchers who prioritize animal welfare and sustainable practices. Crowd Cow's meat boxes are packed with care and delivered directly to the customer's doorstep.
5. Porter Road's Flexible Box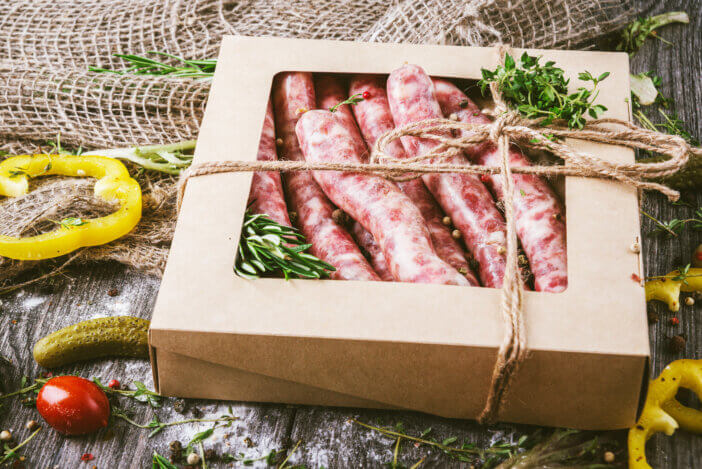 Porter Road is a company that offers high-quality, sustainably-raised meat products delivered straight to your doorstep. Their meat box delivery service provides a convenient and easy way to access delicious meats without having to go to a butcher shop or grocery store. When you order a meat box from Porter Road, you can expect a selection of premium cuts of beef, pork, lamb, and chicken. All of their animals are raised on small, family-owned farms and are pasture-raised without the use of antibiotics or hormones.
6. FarmFoods' Build-Your-Own-Bundle
FarmFoods Market Build Your Box delivery service allows customers to customize their own box of high-quality, farm-fresh products and have it delivered directly to their doorstep. With a wide variety of options to choose from, customers can select their preferred cuts of meats, poultry, seafood, and even specialty items like organic produce and artisanal cheeses.
What Makes a Good Mystery Meat Box
A good mystery meat box should offer more than just the element of surprise. It should provide high-quality meats, a wide selection, and excellent customer service. Quality is paramount when it comes to meats. Therefore, companies that prioritize sourcing from reputable farms or artisans are typically the best choices. A diverse selection ensures you get to try different kinds of meats, thus broadening your culinary horizons.
Moreover, customer service is a crucial aspect to consider. Companies that provide clear product information, flexible subscription options, and responsive customer support tend to offer a better overall experience. Lastly, additional features like free shipping, eco-friendly packaging, and gifting options could further enhance the appeal of a mystery meat box.