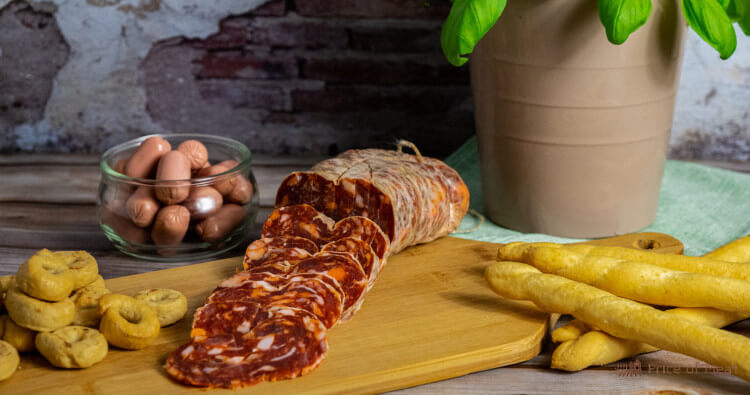 Soppressata is a type of Italian salami (which is, a type of sausage) that is typically served sliced. It is a dry, cured salami with distinctive taste and distinctive appearance.
Soppressata is made from coarsely chopped pork meat, usually taken from the pig's head, mixed with salt and spices like peppercorns, black pepper, garlic powder, fennel seeds and sometimes hot pepper.
The mixture is then stuffed into large natural casing made out of animal intestine to form the characteristic cylindrical shape. Soppressata usually has larger pieces of fat in the center, rather that Genoa salami that has fats mixed in throughout.
Sopressata is usually aged for 40+ days and served while still soft (though a cured meat).
Where Did Soppressata Originate From?
Soppressata originated in Southern Italy but has now become a popular Italian cured meat throughout all parts of the country. It is typically served hand sliced, and its unique flavor can be found in many different types of dishes including salads, sandwiches, pizzas or pastas.
How Is Soppressata Made?
Traditionally, soppressata is made during a local cultural event, where there is more to the craft. However, commercial-grade soppressata is usually made in a very similar manner to most cured salami.
The meat is minced to obtain a sticky consistency, mixed with salt and spices, stuffed into large natural casing made out of animal intenstine to form the characteristic cylindrical shape.
The salami is then left in a dry room for at least 40 days so that its flavors can develop.
Different Types of Soppressata
There are likely as many variants and types of Sopressata as there are towns in Italy. Most variant revolve around what section of the pig is used along with the exact variety of spices, and the material used to process & cure the meat.
Soppressata di Calabria is the only variant that has Protected designation of origin status from the Italian government. In other words, only soppressata made in Calabria can claim that label (unlike, say, "Italian" meatballs made in America).
Soppressata made in Northern Italy will likely use different parts (though still not prime cuts) of the pig. Different towns will also use novel materials to dry & cure the meat.
What Does Soppressata Taste Like?
Soppressata typically has an intense taste that makes it stand out among Italian sausages (almost like a Hungarian sausage), especially compared to milder bologna or mortadella. The pork meat used is usually marbled or rich in texture, which gives it a distinct appearance.
How To Store & Serve Soppressata
Soppressata is typically served sliced and fresh. It can be eaten on its own, but it is perhaps best enjoyed with other classic Italian food dishes such as salads, sandwiches, cheese, pizzas or pastas or on a charcuterie board!
Once sliced, it is best to store in the refrigerator in a good meat storage container to prevent food-borne illness. Each sopressata is different in curing and preparation. Be sure to consult the packaging and / or your deli along with food safety guidelines for safe storage.
Recipes That Use Soppressata
Soppressata is used in many different recipes such as sandwiches, salads & pasta.
Here's a few famous examples:
Where To Buy Soppressata
Soppressata is available in many well-stocked grocery stores or specialty delis, though for a truly authentic taste, you may need to visit an Italian market.
If you're looking for something different to try out on your next sandwich, consider buying some Sopressata! Since it is cured, sopressata will also ship well from online retailers. Here are some of the bestselling options on Amazon.
Bestseller No. 1
Bestseller No. 2
Artisan Salami by The Salumeria (Soppressata Picante) | Humanely-Raised, Pasture Raised Pork, Gluten Free, Hormone Free, Antibiotic Free, Sugar Free, Keto Friendly, Paleo Friendly | Organic Salami, Italian Salami, Uncured Salami, Genoa Salami
Hand Crafted, Artisan, Premium, Uncured Salami made with Pasture-Raised Pork
Our commitment to quality begins on our farm where we pasture raise our animals and emphasize the importance of both their physical and mental wellbeing. No Corn, No Soy, No Hormones, No antibiotics.
No Nitrites, No Nitrates, No Added Hormones, No Artificial Ingredients, Gluten-Free
Humanely Raised Pork is Just the Beginning.
Unit count type: Ounce
Bestseller No. 3
Bestseller No. 4
You Had Me At Soppressata Funny Italian Dry Salami Fan T-Shirt
If you love eating Soppressata, then this funny Italian food design for Soppressata lovers is for you. Get the funny Italian Salami gift to show your love for Italian cuisine. Whether you are are from Basilicata, Apulia, Toscana or Calabria.
The Funny Soppressata Fan Italian Food Design lets you hop onto the statement fashion trend. Get the funny Italian cuisine gift design for Soppressata fans, who just love to eat Italian food. Get your Soppressata di Puglia di Basilicata, Veneta or Toscana.
Lightweight, Classic fit, Double-needle sleeve and bottom hem
Bestseller No. 5
igourmet Italian Premier Gourmet Gift Box - Italian Cheeses, Italian Honey, gourmet Soppressata, Italian Tuna, delicious sliced speck, Taralli, sweet Canestrelli Cookies, 100% Italiano Extra Virgin Olive Oil, Balsamic Vinegar, and Italian Pesto
GOURMET ITALIAN GIFT BOX - This Gourmet Gift Basket Includes The Highest Quality Ingredients From Italy made by their finest craftsmen and artisans. A Gift Basket so large and impressive it garners more accolades than almost anything else we sell.
TRUE ITALIAN LUXURY GOURMET GIFT BOX- Italy's finest cheeses from across the country paired with delicacies such as Italian Honey, gourmet Soppressata, Callipo's utmost quality Italian Tuna, delicious sliced speck, hand-made Taralli, sweet Canestrelli Cookies, and Italian stables such as 100% Italiano Extra Virgin Olive Oil, Balsamic Vinegar of Modena, and authentic Italian Pesto.
A FOOD CONNOISSEURS COLLECTION OF ITALIAN CUISINE - Gift box was curated and assembled by Italy's top food critics and connoisseurs to allow for an authentic and endearing Italian cuisine experience.
A MASSIVE COLLECTION OF RARE ITALIAN SPECIALTY FOODS - From Italy's best deserts to its heartiest meats, and most refined cheeses this gift box ensures an experience bound to expand one's pallet.
HAND-PACKED LUXURY ITALIAN GIFT BOX - Beautifully Cut and wrapped by the hands of our food experts, Ships Prime expedited in an insulated package to ensure freshness.