4+ Best Fish Steamer Options for Soft, Tender Fish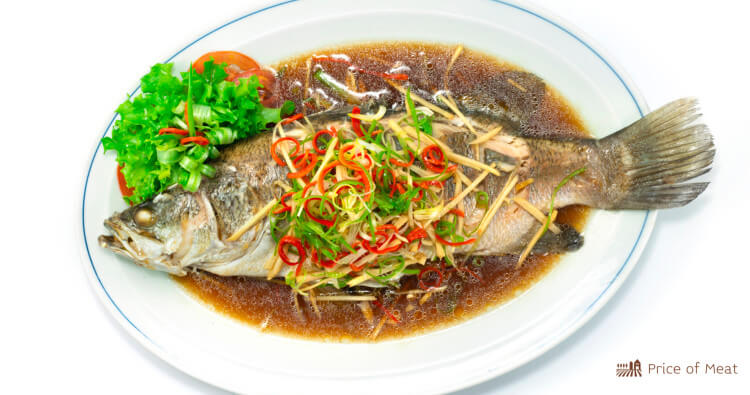 This guide will help narrow down the best fish steamer (i.e., "fish poacher") within your budget that fits your needs.
Based on our own staff's experience, in-depth research in premium trade subscriptions, and crunching publicly available user reviews, we've curated the thousands of options on the market for a few that fit each typical use.
Whether you are looking for poaching a fresh trout, steaming pollock, or steaming some clams & oysters (instead of shucking), the fish steamer / fish poacher is a must-have seafood tool.
Here are the details for all the fish steamer options.
Quick Sidenote – check out our shop for a curated selection of the best meats, cuts, sausages, and more. Open our shop in a new tab and explore!
Disclosure: As an Amazon Associate, this site earns from qualifying purchases. Thank you!
RSVP International Endurance® Stainless Steel Fish Poacher
If you're looking for a quality steamed fish, the RSVP International Endurance® Stainless Steel Fish Poacher is a great option.
It's made from commercial-grade stainless steel, and it comes with a removable inner rack that has long handles, making it easy to lift out cooked fish with a spatula without it falling apart. Plus, it's dishwasher safe for quick and easy cleanup.
RSVP International Endurance Collection Fish Poaching Set, 18 inch, Stainless Steel
GREAT FOR THE KITCHEN: The removable inner rack with handles makes it easy to lift out a cooked dishes without them flaking apart
PERFECTLY POACHED: Prepare an elegant meal of whole salmon, snapper, or striped bass, or cook vegetables with a fish steak or fillets, and serve over hot rice
PERFECTLY SIZED: Fish poacher measures 20.25 x 6.25 x 5.5"
FANTASTIC QUALITY: Large fish poacher pan is made from commercial quality stainless steel
CARE INSTRUCTIONS: Dishwasher safe
KitchenCraft POACHER24 Large Fish Kettle
Looking for a healthy and easy way to cook fish? The KitchenCraft POACHER24 Large Fish Kettle might be just what you need.
Made of polished stainless steel with an encapsulated base, this fish kettle is perfect for evenly cooking medium to large fish. Plus, the welded handles make it easy to lift, even when it's full of seafood goodness.
KitchenCraft Fish Kettle, Stainless Steel Induction, Polished, Large, 61.5 x 18.5 x 10.5cm, Silver
SIMPLE AND HEALTHY: making delicious, nutritious fish dishes couldn't be easier with this large fish kettle
INDUCTION SAFE: just add fish and stock, pop on the lid, and heat on any type of stovetop
HIGH QUALITY: it's made of polished stainless steel with an encapsulated base for even cooking, plus welded handles for easy lifting
EXPERIMENT WITH SEAFOOD: wow guests with whole poached salmon and transform the juices into a tasty sauce
IDEAL FOR MEDIUM TO LARGE FISH: measures 61.5 x 18.5 cm; dishwasher safe (appliance size permitting); 15 year guarantee.NOTE-This item is not suitable for an oven
Hamilton Beach Digital Food Steamer
The Hamilton Beach Digital Food Steamer with 5.5 quarts capacity has two stacking tiers which make it possible to steam many different types of dishes (even tamales) at once with ease.
The divider in between each tier can be removed to fit larger quantities if necessary; you could even use one tier for small quantities and two tiers for whole meal preparation.
Hamilton Beach Digital Electric Food Steamer & Rice Cooker for Quick, Healthy Cooking for Vegetables and Seafood, Stackable Two-Tier Bowls, 5.5 Quart, Black & Stainless Steel
FOOD STEAMER AND RICE COOKER: Easily cook a whole meal with one appliance with 5.5 quarts of cooking capacity. Includes 2 steaming bowls plus rice basket for rice or small foods.
VERSATILE STEAMING: Versatile, stackable 2-tier steaming to cook multiple foods at once for quick and easy meal solutions. Use 1 tier for small quantities and 2 tiers for a whole meal. The center divider can also be removed to fit larger quantities of foods.
GUESS-FREE STEAMING: Just fill it up and set the timer. When the food is ready, it will automatically switch to Warm. It also includes Delay Start and Auto Shutoff DIGITAL TOUCHPAD: Easily set the countdown timer and other functions easily.
FITS NEATLY IN CABINETS: The tiers nest together to easily store away.
PERFECTLY COOKED EGGS: Cook eggs from soft cooked to hard-boiled. Cook up to 16 large eggs at a time by simply standing them up on each steam bowl's egg holders.
Tafura Microwave Fish Steamer
The Tafura Microwave Steamer is a 3-piece set that includes a removable strainer basket, an airtight locking lid, and a container. The steamer is ideal for cooking vegetables, fish, and poultry.
The steamer is made of high-quality BPA-free material and is microwave safe (with the vent tab open) and dishwasher safe (top rack).
Tafura Microwave Vegetable Steamer. Microwavable Steamer Basket for Veggie/Broccoli/Fish. Steam Container w/Vented Lid, 2 Liter, BPA Free
The Tafura Microwave Steamer makes a healthy meal in minutes. just add water to the container, fill the basket with food, and heat. The steam release tab allows steam to escape while cooking. Ideal for a variety of vegetables, fish, and poultry
This 3pcs steamer container includes a removable strainer basket, an airtight locking lid, and a container. with a capacity of 8.5 Cups. Dimensions: 7"x7"x4.5"
With this microwave steamer, you can now enjoy the benefits of Microwave steaming. It is the healthier way of cooking and retains the vegetable's original flavor, protein and vitamins.
Tafura Microwave cookware is made of high-quality BPA Free materiel and is microwave safe (with vent tab open) and dishwasher safe (top rack), the lid features a rubber sealing ring and locking clips to keep food fresh on the go - and for a leakproof experience.
How To Choose The Best Fish Steamer
There are a few considerations when choosing the best fish steamer / fish poachers. Here are the primary ones to think about.
Size
Will you be cooking for one or two people? Are you preparing food for a picnic, event, or party?
Applications
Do you prefer to steam seafood, veggies, fruit, or all three in the same steamer?
Ease of Use
Is it easy to assemble and clean afterward? Does it have indicator lights or other features that make it easy to use?
Price
How much are you able to spend on this product? Quality usually tracks the price, so look at what an upgrade will get you over the long term.
Other Features
What other features does it have that are worth considering? Is there a warranty or guarantee included with the purchase of the product, and what's its return policy if something goes wrong?
FAQs about Fish Steamers & Poachers
Here are some frequently asked questions about fish steamers.
What are the different types of fish steamers?
There are three main types of fish steamers: those that sit on the stovetop, those that are electric, and those that are microwaveable.
Each type has its advantages and disadvantages.
Stovetop steamers typically provide more control over temperature and cooking time, while electric steamers are easier to operate and often have countdown timers. Microwaveable steamers are the most convenient option since they can be used in any kitchen without additional equipment.
Microwave steamers can also double as a veggie steamer, rice steamer, and different foods. However, they can also be the most difficult to use effectively, since microwaves vary in power output. You can also use a bamboo steamer if needed, even though they have tradeoffs compared to metal.
How do I choose the best fish steamer for my needs?
Start with choosing the type (stovetop, electric, microwave), then decide if you want a dedicated steamer with more size for larger fish, or whether you can make do with a smaller, multi-purpose steamer.
What are the benefits of using a fish steamer?
Fish steamers are a great way to cook delicate fish without ruining it. The high heat of the steamer cooks the fish quickly and evenly, leaving it moist and tender.
Additionally, because the steam surrounds the fish, it locks in all of the flavors and nutrients, resulting in a delicious and healthy meal.
How do I prevent my food from sticking to the steamer?
The best way to prevent food from sticking to the steamer is by using a little bit of non-stick cooking spray on the inside of the steamer.
Can I use a fish steamer to poach fish?
You can use a fish steamer to poach fish, but the nature of poaching is that you have a single point of heat so it might be too hot for delicate fish. Steaming fish will cook the food more evenly and save you some tons of time measuring out individual bowls of miso soup with every bite).
Is stainless steel or plastic steamer better?
The better option between stainless steel and plastic steamers is stainless steel. Stainless steel steamers offer a healthier choice compared to plastic models. They are made with a minimum of 10.5% chromium, although most home and professional cooks prefer 18% for enhanced protection. This higher chromium content not only reduces the likelihood of corrosion but also prevents food stains from occurring.
Is it worth buying a food steamer?
It is worth buying a food steamer because it allows for easier and faster cooking. Unlike traditional cooking methods like deep frying, using a food steamer significantly reduces the cooking time for your favorite dishes. In just a matter of minutes, a food steamer can effectively cook your food.
Are silicone steamers safe?
Silicone steamers are safe to use. According to the FDA, there is no risk of harmful chemical contamination from food-grade silicone cookware and utensils. If you have concerns about using silicone in your cooking or baking, it is recommended to stick to silicone kitchen tools and avoid using silicone cookware.
What size steamer do I need?
To determine the appropriate size of steamer, make sure its diameter is smaller than that of your wok. Additionally, bamboo steamers offer the advantage of stacking, enabling you to steam multiple items simultaneously over a single wok of simmering water. For the majority of home cooks, a 10-inch steamer is typically suitable for cooking a wide range of foods.
How do I get the best results from a steamer?
To achieve optimal results from a steamer, it is important to follow these guidelines: Start by using distilled water for steaming. Ensure that the water is fully heated before using the steamer on your clothes. Hang the garments you wish to steam on a hook or clothes hanger. Always hold the steamer nozzle in an upright position. For most fabrics, you can gently brush them with the nozzle while steaming.
Which is better bamboo steamer or stainless steel?
The bamboo steamer and stainless steel are two popular options for steaming food. However, when comparing the two, it is important to consider their respective advantages and disadvantages. While the bamboo steamer is often regarded as the more traditional choice, it does have some drawbacks, such as the need for regular maintenance and the potential for mold growth. On the other hand, stainless steel steamers offer durability and are resistant to mold. Additionally, they are generally more expensive than bamboo steamers. Ultimately, the choice between the two depends on personal preference and specific needs.
Should I use parchment paper in a bamboo steamer?
You should use a perforated parchment paper liner to line your bamboo steamer basket while the water comes to a boil. This will help prevent food from sticking to the bamboo.
Are bamboo steamers worth it?
Bamboo steamers are definitely worth it as a valuable addition to your kitchen. If you enjoy cooking meals at home and want to ensure that the food you prepare retains its nutrients, flavor, texture, and minerals, then this steamer is a must-have. Once you experience cooking with an authentic bamboo steamer, you won't want to go back to any other method!
Can you use aluminum foil in a bamboo steamer?
Yes, aluminum foil can be used in a bamboo steamer. However, it is important to note that the foil should not completely cover the bottom of the steamer. This is done to prevent sticky foods from sticking to the steamer. Alternatively, you can also use parchment paper, a plate, cabbage leaves, banana leaves, or corn husks as liners in the steamer to add flavor.
What are the disadvantages of bamboo steamer?
The disadvantages of bamboo steamers include being more difficult to clean and less durable compared to other materials. Additionally, if the bamboo steamer gets scorched, any food cooked in it afterwards may retain a scent of burnt bamboo.
What is the best material for a food steamer?
The best material for a food steamer depends on factors such as durability, heat distribution, and ease of cleaning. Optimal choices include high-quality stainless steel or food-grade plastic that is free from BPA.
How long should a bamboo steamer last?
How long a bamboo steamer should last depends on various factors. In our testing, we discovered that this steamer can endure over 20 cycles of steaming, cleaning, and drying, making it a durable option for cooking healthy and authentic food.
Can I use a metal steamer instead of bamboo?
You can use a metal steamer instead of bamboo. To ensure proper usage, line the metal steamer with greaseproof paper to protect it. Avoid overfilling with water and make sure the bao does not touch the wet sides of the metal steamer. To prevent condensation, cover the pan with a clean tea towel before placing the lid on top.
What kind of pan do you use with bamboo steamer?
The kind of pan that is used with a bamboo steamer is a wok. The sloping sides of a wok make it an effective tool for using with a bamboo steamer, as it allows the steamer to sit on the wok without requiring a rack.
Is a bamboo steamer better than an electric steamer?
A bamboo steamer offers advantages over an electric steamer, such as the ability to absorb moisture into the bamboo, effectively managing humidity and preventing any undesirable broiling.
Why do the Chinese use bamboo steamers?
The Chinese use bamboo steamers due to their long-standing tradition of preserving dry food and the historical evidence of bamboo being used for various utensils since ancient times. Archaeological findings have shown that steaming was the earliest recorded cooking method in the Zhou Dynasty, with ancient steamers made from pottery and bronze.
Do you have to soak a bamboo steamer every time?
The bamboo steamer should be soaked in lukewarm water for approximately 30 minutes to ensure that the bottom rim, which will be in contact with the wok, is properly prepared. Neglecting to do so may result in charring of the steamer.
Why are bamboo steamers so expensive?
Bamboo steamers are more expensive due to their water-resistant internal walls and being made from 100% natural material without BPA and plastic.
Are bamboo steamers sanitary?
Bamboo steamers can be kept sanitary by cleaning them after every use to prevent any food residue from sticking to the bamboo. This regular cleaning routine ensures that each time you use your bamboo steamer, it will maintain a clean and hygienic condition, making it feel as good as new.
What size steamer should I get?
You should likely get a 10-inch steamer, as it is typically sufficient for cooking most foods for home cooks.
What is a good size bamboo steamer?
A good size for a bamboo steamer is typically a set of two or three 10-inch round bamboo tiers, which can be used with a variety of cookware such as a 14-inch wok or a 12-inch skillet or sauté pan.
What vegetables are best to steam in a bamboo steamer?
The best vegetables to steam in a bamboo steamer are arranged in tiers based on their cooking time. Start by placing heavier, slower-cooking vegetables like beets, squash, and potatoes on the bottom tier. As these vegetables begin to steam, prepare more delicate vegetables such as broccoli, asparagus, and mushrooms and place them in the second basket. This method ensures perfectly cooked vegetables that are never mushy.
What can I use instead of a bamboo steamer?
Instead of a bamboo steamer, you can use a metal basket or a combination of aluminum foil and a dinner plate. These alternatives are just as effective for steaming dumplings and do not require as much storage space as bamboo steamers.
Are steamer baskets worth it?
Steaming baskets are definitely worth it as they are often overlooked in the kitchen, yet they serve as an essential tool for cooking soft and quickly-prepared food. By using the steaming method, which involves moist-heat cooking, you can ensure that your vegetables turn out tender and your dumplings remain juicy. Moreover, steamer baskets can also be utilized for cooking fish, bao buns, and even tamales, making them a versatile addition to your kitchen equipment.
What are the disadvantages of steamer?
The disadvantages of using a steamer include the potential for longer cooking times compared to other cooking methods due to the time required for the water in the steam pot to reach a boil and cook the food. Additionally, steaming can result in moisture retention.
What are the disadvantages of food steamer?
The disadvantages of using a food steamer include the potential for mineral buildup and system clogging, although regular maintenance and cleaning can prevent this issue. Additionally, cooking with steam can lead to increased water consumption, potentially resulting in higher water bills.
Final Thoughts – Best Fish Steamer
Fish is a staple of many diets, and fish steaming has become one of the most popular cooking methods. It's also healthier than frying or baking your fish.
But with so many different varieties to choose from (in addition to DIY options), how do you know which type will work best for you? Check out our list below for some recommendations on what we think are the top four options that'll give you soft, tender fish every time for healthy food every time.