Top 4 Oyster Openers for Easy Shucking & Enjoyment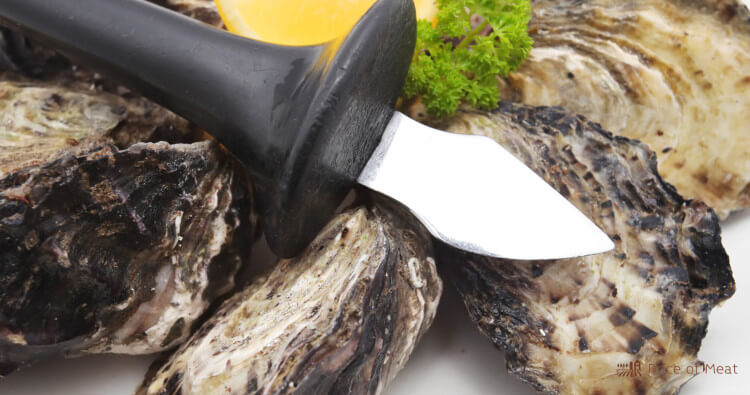 This guide will help narrow down the best oyster opener for shucking within your budget that fits your skills. Because let's face it – oysters are a pain to eat. The standard "opener" is a oyster knife that looks more like a finger slicer than a seafood tool.
Based on our own staff's experience, in-depth research in premium trade subscriptions, and crunching publicly available user reviews, we've curated the thousands of oyster openers on the market for a few that fit each typical use.
Whether you are looking for a full-on machine or just a safe, ergonomic knife, the a good oyster opener is must-have for enjoying fried or fresh oyster.
Here are the details for all the oyster opener options.
Quick Sidenote – check out our shop for a curated selection of the best meats, cuts, sausages, and more. Open our shop in a new tab and explore!
Disclosure: As an Amazon Associate, this site earns from qualifying purchases. Thank you!
OXO Good Grips Stainless Steel Non-Slip Oyster Knife
If you love oysters, then you know that there's nothing quite like the taste of a fresh, succulent oyster. But opening them can be a bit of a challenge. That's where the OXO Good Grips Stainless Steel Non-Slip Oyster Knife comes in. With its soft handle and sturdy stainless steel blade, this knife makes opening oysters a breeze – even for those new to the game. The knife is also dishwasher-safe, making cleanup a snap. So bring on the oysters (and conchs and clams)!
ZYLISS Oyster Tool and Knife Set
If you're looking for an oyster opener that is both safe and easy to use, the ZYLISS Oyster Shucking Knife Set might be just what you need. This set comes with a specially designed stainless steel blade and non-slip knife handle, making it easy to open oysters without injuring yourself or spilling the oyster liquor. The silicone oyster pocket also provides leverage while protecting your hands, and the built-in knife holder makes storage a breeze.
ZYLISS Oyster Tool and Knife Set, Shucker
Oyster Shucker Knife: This knife has a stainless steel blade and non-slip handle with safety guard
Easy Kitchen Gadget: Insert and twist knife to open oyster shells safely and preserve oyster liquor
Kitchen Knife Set: The silicone oyster pocket with non-slip feet offers leverage and protects hands
Kitchen Knife: This oyster shucking knife and opener has a built-in knife holder for drawer storage
Zyliss Kitchen Accessories: Zyliss kitchen tools are favored by everyday cooks & gourmet chefs alike
King Kooker 5500 Stainless Steel Oyster Opener
If you're looking for an easy way to open oysters, the King Kooker 5500 Stainless Steel Oyster Opener is a great option. This handy tool includes a oyster knife, making it easy to get into those hard-to-reach places. The stainless steel construction means this opener is durable and easy to clean.
Oyster Shucker Tool Set, Oyster Clam Opener Machine
Oysters are an amazing delicacy that not everyone is able to enjoy. Shucking oysters can be a difficult and dangerous task, especially for those who don't know what they're doing. With the Oyster Shucker Tool Set, you'll never have to worry about cutting your hands or struggling with opening oysters ever again! It's a simple oyster shucking machine made of premium aluminum metal base and solid stainless steel pry stick which makes opening shells fast and safe without any efforts whatsoever!
With this set, you will receive an Oyster shucking knife as well as cut-resistant gloves for safety measures. The G-clip comes in handy when it comes to storing this set away neatly after use! This product has been designed specifically for home kitchens and can also be used at seafood stores and restaurants alike.
TDOCK Oyster Shucker Tool Set, Oyster Clam Opener Machine
Oyster opener set makes opening oysters easy and fast, never worry about cutting your hands
You could set different heights according to the size of the oyster. Premium aluminum metal base with 5 groove which helps to stabilize the oysters. Solid stainless steel pry stick with extended high-end aluminum handle makes opening the shells faster and safer without efforts
Size - aluminum base: 11inch in length, 3.9 inch width. Stainless steel handle: 18.9 inch in length
Great tool for home, restaurants, seafood stores and supermarkets
Package Includes: a set of oyster shucker tool, an oyster shucking knife, a pair of cut-resistant gloves and a G-clip
How To Choose an Oyster Opener
There are a few considerations when choosing an oyster opener. Here's the primary ones to think about.
Safety
An opener should be designed in a way to protect the user from injuring themselves by cutting their hands on an oyster's sharp shell edges. For this reason, buy a hand held model that covers the blade or utilize a table mounted model that locks into position. Alternatively, you could get one of each and keep the former for your outdoor barbecues and latter for your kitchen.
Durability
Oyster openers are typically made of metal or plastic. Metal is more durable but also heavier to carry around outside of the house. Plastic can be flimsy, but it's lighter weight which makes it easier to transport on the go by throwing it in a bag or storing it in a drawer.
Multi-purpose Openers
Some oyster openers can be used for other food items such as clams, lobster etc. This is very useful when you're on the road and don't want to bring an extra opener just for oysters. However, this feature needs to be weighted against the fact that some multi-purpose openers might be more flimsy than others.
Ergonomic design
A comfortable grip makes it easier to hold an oyster opener in your hand for extended periods of time without your wrist hurting or getting tired.
Brand and Price
There are a lot of cheap knock-off brands available online. These are typically made of plastic and will not last very long before breaking. Some of the major oyster opener manufacturers are Dexter Russell, OXO Good Grips, Zwilling J.A Henckels etc.
FAQs about Oyster Openers
Here are some frequently asked questions about oyster openers & knives..
How do you use an oyster knife?
An oyster knife is a blunt-tipped, short-bladed stabbing knife that is used specifically for prying open the shells of oysters. It can also be used for slicing through the adductor muscle to detach the oyster from the shell. Some oyster knives come with a guard or hilt to protect your hand from slipping onto the blade. Either way, you must have a cut resistant glove. Other knives have a pointed end which can be inserted into the hinge of the oyster shell to lever it open. If you are not sure how to use an oyster knife, it is best to consult an expert or watch a video on how to shuck an oyster before attempting it yourself. Often a small oyster can be more difficult than large oysters.
Can you use a butter knife to shuck oysters?
No, a butter knife is not the best option for shucking oysters. While it may be able to pry open the shell slightly, a butter knife is not sharp enough to cut through the adductor muscle & oyster meat.
What are the best oyster openers for beginners?
There are a few different types of oyster openers that are good for beginners. A basic oyster knife is a good option, as is an oyster fork. Another option is to use a specially designed oyster opener like the OXO Good Grips Oyster Knife or the Twister Shellfish Shucker. These openers have a sharp blade and a comfortable handle, making them easy to use. If you are not sure how to use an oyster opener, it is best to consult an expert or watch a video on how to shuck an oyster before attempting it yourself.
Best Oyster Knife – Next Steps
Now that you know about the different oyster opener options, it's time to choose the best one for you. Consider your budget, type, and how often you'll be using it. No matter which type of oyster opener you choose, we hope you enjoy shucking and eating these delicious mollusks! Just don't forget the cut resistant gloves.