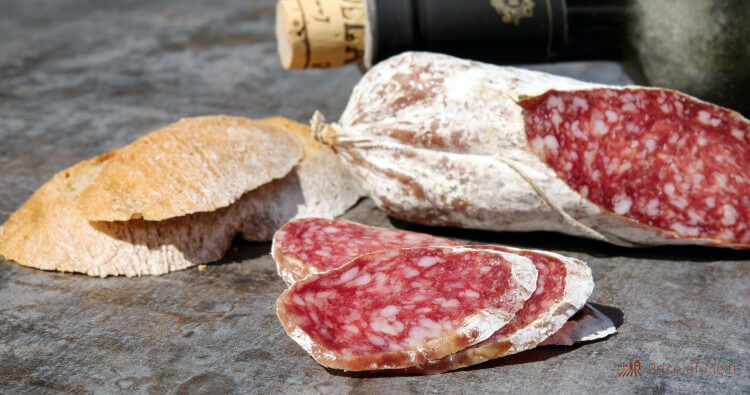 Salami is a type of cured sausage that is usually made from pork meat, beef, or venison. It is popular deli meat that can be eaten on its own or added to sandwiches, pizzas, and other dishes. Salami is high in protein, making it a healthier processed meat for a snack or meal.
Where Did Salami Originate From?
What we commonly know as salami has an Italian origin, though the process of salting & drying meats for preservation and flavor has existed across human cultures for thousands of years.
The word "salami" likely derives from the Latin words sal (salt). Ancient Romans were the first to use the term, but many cultures eventually discovered how air drying their meats could provide flavors (similar to cecina or bresaola or pepperoni) that had previously only been achieved through curing by submerging in saltwater.
The native Italians called these long strips of meat Salame, and it still holds that name today.
What Ingredients Are Used To Make Salami?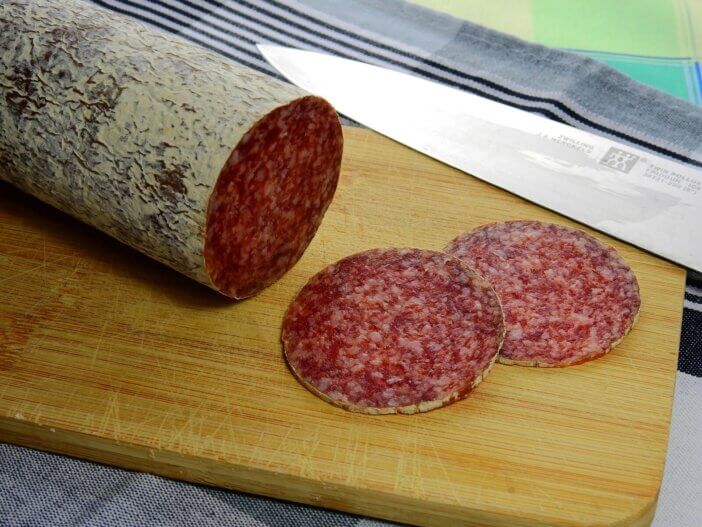 Salami is made from pork, beef, veal, or a combination of fresh meat and a wide variety of spices (such as black pepper, white pepper, garlic, nutmeg, and mace) along with salt and vinegar.
Regional variations (like soppressata) will add in different meats, such as goose or other poultry, or will marinade it with wine or other alcohols before drying.
How Is Salami Made?
Making salami varies a bit according to the type and recipe. However, it happens in four broad steps.
Preparing The Meat
Salami is made by grinding the meat and combining it with preferred spices. The ground meat is flattened out to layer in the ingredients.
Flavoring The Meat
The meat is then flavored with a brine solution. The salami is massaged and kneaded to distribute the solution, which can include salt, herbs and spices, wine, or other alcohols.
Casing The Meat
Then, it is added to a sausage casing (with a good sausage stuffer) and set to ferment. This fermentation process is what gives salami its tangy flavor and also lowers the pH, making it more resistant to spoilage.
Curing / Cooking / Aging The Meat
Once fermented, the mixture of meat goes through a drying period under refrigeration where it becomes more concentrated in flavor while maintaining all of its important nutrients.
To avoid food-borne disease, salami must be made with high-quality ingredients in a clean environment with high attention to detail.
Additionally, modern salami manufacturing will use known "good" bacteria for fermentation and add in nitrates to help spur the drying process to get a cured meat that passed all food safety tests.
Different Types of Salami
3 primary types of salami are defined by how it is preserved (or not).
Fresh Salami
This is the most simple type, otherwise known as cooked salami. It is salted and spiced like all other types, but then it's eaten fresh (within 3 months). Fresh salami must be cooked before being eaten.
Dry Aged Salami
This type of salami is air-dried for 2 to 3 months. This process results in cured meat with a more concentrated flavor and semi-hard texture that can stand up to being sliced & served on its own or as an accompaniment to cheese, bread, fruit, or wine (i.e., on a charcuterie board as a core meat choice).
The most well-known variety is Genoa salami, which has become almost synonomous with hard salami / traditional salami, but there are plenty of other well-known varieties like soppressata. Dry-aged salami does not need to be cooked or handled specially.
Precooked & Preserved Salami
This is the most common type of salami you will find. It can be sliced & served immediately, but it has already gone through the fermentation and cooking process before being packaged in casings.
Treat it like you would any other lunch meat like bologna or mortadella or bresaola – it is safe ~3 to 4 days after opening.
What Does Salami Taste Like?
Salami is a rich, tangy and flavorful meat with varying degrees of acidity. A good salami will have layers of flavors from spices and fermentation balanced by strong pork or beef notes.
Why Is Salami Considered A "Healthy" Food?
The process of fermentation kills off harmful bacteria as well as helps preserve the food, concentrating the flavors and increasing the bioavailability of nutrients.
Salami also provides a lot of protein for its size & is low in calories. Its saturated fat content varies greatly depending on the type and recipe, but it usually falls around 20%.
What Is Salami Good For?
It's a delicious & versatile source of lean protein that makes the perfect accompaniment to cheese, bread, and/or cured meats on a charcuterie board.
It can add an intense meaty flavor to sauces or soups with big benefits in terms of taste, texture, and health.
Salami is also great when used as a quick appetizer on its own or paired with cheese, olives, and/or bread. It works especially well in Italian cuisine.
It can be sliced & used in sandwiches (like Vito meats at Jimmy Johns!) for an easy hot lunch or tasty appetizer.
How To Store & Serve Salami
Salami can be stored in the refrigerator, freezer, or pantry – depending on which type you buy. Check your product label to know how best to store it.
Many people assume they've bought Dry Aged Salami when they've bought Precooked Salami. These have very different food handling requirements.
To know which you are about to eat, check the label before you take a bite.
Where To Buy Salami
Salami is often found in the deli counter of your local grocery store. It can be purchased as pre-sliced or just buy the whole salami and slice it yourself as needed.
One benefit of dry-aged salami is that you can increasingly find it online from specialty retailers. Here are some of the top-selling salami brands on Amazon.
Bestseller No. 1
Foustman's Salami (Beef) Artisanal, Nitrate-Free, Naturally Cured
Foustman's Salami is a family-owned business specializing in creating unique styles and flavors of artisanal uncured salami. Made in the San Francisco Bay Area.
Naturally Dry Cured, Old-World Style, All Natural.
8oz sticks - 15 flavors including pork, beef, turkey and lamb styles. Great for any charcuterie or cheese board!
Shelf stable. Refrigerate after opening. Great for travel and camping.
Remove casing before enjoying. Some natural organic white mold may be present on casing. This is completely normal and will be removed with casing.
Bestseller No. 2
Bestseller No. 4
Boar's Head Charcuterie Salami Sampler Includes 7 Types Of Salami
Boar's Head Charcuterie Salami Sampler Includes 7 Types Of Salami. Perfect Treat For Your Self Or Makes A Great Gift.
Makes A Great Charcuterie Platter. Includes 1 Italian Style Uncured Dry Salami, 1 Traditional Pepperoni Salami, 1 Uncured Soppressata Salami, 1 Uncured Spicy Soppressata Salami, 1 Uncured Bianco D'oro Italian Style Dry Salami, 1 Uncured Genoa Salami, & 1 Uncured Pepper Salami
All Salami Sticks Are 6-9oz. All Salami Sticks Are Shipped Whole (Not Sliced)
All Salami Are Shelf Stable (Do Not Require Refrigeration Until Opened). Refrigerat After Opening. Do NOT Require Dry Ice / Ice Packs For Shipping.
Fast Free Shipping Only From Gourmet Market
Bestseller No. 5
FAQs about Salami
Here are a few frequently asked questions on salami.
Is salami beef?
Salami is a type of sausage that is made from beef or pork.