Best Mini Charcoal Grills: Small & Portable Options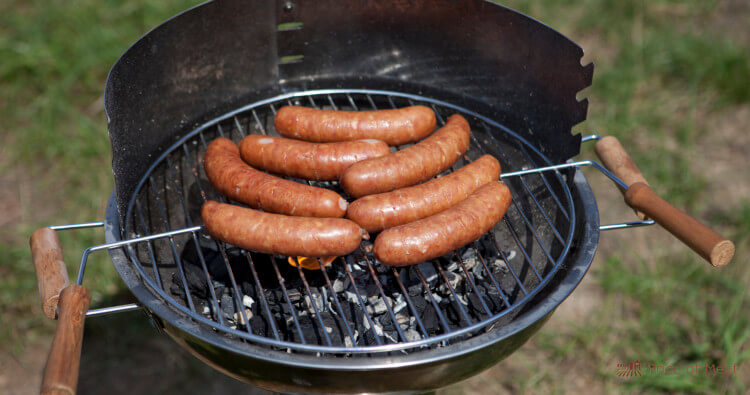 This guide will help narrow down the best mini charcoal grill options within your budget that fits your needs.
Based on our own staff's experience, in-depth research in premium trade subscriptions, and crunching publicly available user reviews, we've curated the thousands of mini charcoal grills on the market for a few that fit each typical use.
Whether you are looking for grilling in a small space (like a balcony or table) or lightweight camping grill, a good mini charcoal grill is great addition to your cooking collection.
Here are the details for all the best options.
Quick Sidenote – check out our shop for a curated selection of the best meats, cuts, sausages, and more. Open our shop in a new tab and explore!
Disclosure: As an Amazon Associate, this site earns from qualifying purchases. Thank you!
Fire Sense 60508 Notebook Charcoal Grill
If you're looking for a the best portable charcoal grill with a minimalist design that can go anywhere and do anything, then you've found it.
The Fire Sense 60508 Notebook Charcoal Grill is the perfect accessory for any outdoor enthusiast – whether camping, tailgating or picnicking.
This portable charcoal BBQ grill comes with a charcoal rack and grill rack to create an authentic barbecue experience anywhere.
With high heat resistant painted steel construction and foldable design this mini grill will be your new best friend when cooking outdoors! It is easy to carry in ways that not even a portable gas grill is.
Cuisinart CCG190RB Inch Portable BBQ Charcoal Grill
This portable charcoal grill features 150 square inches of cooking space, dual vents for temperature control, three secure lid locks for safe transport, an enamel coated firebox and ash catcher to keep your food clean.
The Cuisinart CCG190RB Inch Portable BBQ Charcoal Grill is perfect for balconies or decks as well as camping trips or tailgates. It also makes a great gift idea!
Sale
Cuisinart CCG190RB Inch BBQ, 14" x 14" x 15", Portable Charcoal Grill, 14" (Red)
196-SQUARE-INCH CHROME PLATED GRATE: The 196-square-inch chrome plated cooking rack gives a spacious cooking surface is able accommodate lots of food at one time while still distributing heat evenly and efficiently.
DUAL VENTING SYSTEM: Features a Dual venting system, giving you the ultimate charcoal management and temperature control.
THREE SECURE LID LOCKS: The grill features three secure lid locks for easy and safe transport.
COMPACT ENOUGH TO TAKE ANYWHERE: Measures 14 x 14 x 15 inches and weighs only 2 lbs. , making it easy for transport and ideal for decks, patios and balconies, camping, tailgating and more.
ENAMEL COATED FIREBOX AND ASH CATCHER: Features a durable enamel coated firebox and convenient mess-free ash catcher for safety and ease.
Samdray Charcoal Grill Kabob Grill Portable Grill
If you're in the market for a quality, portable charcoal grill, the Samdray Charcoal Grill Kabob Grill Portable Grill is a great option. Made of thick stainless steel, this grill is durable and easy to clean.
The foldable design makes it easy to assemble and use immediately, while the removable charcoal mesh and mess-free ash catcher make it a breeze to keep clean.
With its large cooking surface and air ventilation design, this mini charcoal grill is perfect for outdoor family barbecue gatherings.
Samdray Charcoal Grill Kabob Grill Portable Grill Small BBQ Grill Folding Skewer Grill Hibachi Grill for Camping, Cooking and Backyard Barbecue
High-quality Material - This hibachi grill is made of thick stainless steel, which ensures that the grill won't rust and be easy to clean after long-term use. 
Portable Charcoal Grill - The portable handles make the small BBQ grill easy to carry and move, perfect for camping, backpacking, picnics, or barbecuing in tight spaces.
Easy Assembly and Easy to Clean - The foldable design makes this Kabob grill be easily installed and used immediately. Also, removable charcoal mesh and mess-free ash catcher facilitate the cleaning of the portable grill much.
Large Grilling Area - The camping grill offers a spacious cooking area of a 181-square inched and is equipped with 2 baskets for placing seasonings and foods, perfect for outdoor family barbecue gatherings.
Air Ventilation Design - Specially designed vents around the mini charcoal grill container promote the burning of charcoal and distribute the heat evenly.
Primst Multifunctional Charcoal Barbecue Grill
The Primst Multifunctional Charcoal Barbecue Grill is a Korean style mini charcoal grill that is perfect for traditional barbecue, but also for roasting vegetables or even making soup.
It is made of stainless steel and has a detachable handle so you can carry it easily while camping or when traveling.
Sale
Primst Multifunctional Charcoal Barbecue Grill, Household Korean BBQ Grill, Portable Camping Grill Stove, Tabletop Smoker Grill
????????????What You Will Get: Grill body, charcoal bowl, charcoal burning plate, roasting pan, roasting mesh, pot stand, and anti-scalding handle. All the tools needed for barbecue are here.
????????????Convenient Roasting: Use roasting pan or roasting mesh to toast lamb skewers, chicken breast, beef, steak, turkey, corn, green pepper, bacon. You can also use this stove to make a delicious soup for family.
????????????Reliable Quality: Made of thickened and anti-rust stainless steel material, and the non-stick ore roasting pan will make BBQ a easy work for beginner.
????????????Adjustable Flame Size: Adjust the two ventilation holes on the side to get different flame sizes. The detachable design also allows you to easily carry it when camping/picnic/trailing/fishing outdoors.
????????????Sizes: Upper diameter: 35cm/13.8 inch, bottom diameter: 23.5cm/9.3 inch. Height: 12cm/4.7inch.
How To Choose The Best Mini Charcoal Grill
Portable charcoal grills are not a huge expense, and they are fairly basic technology. That said, you want a quality grill that fits your use. Here's a few things to look for.
Overall Size & Design
How big do you want it? Do you care if the lid overlaps the body, or does it need to be a perfect fit? What's your cooking style – boiling, simmering, charcoal grilling on low heat? Some simple designs feature no legs and sit on top of a table.
Others have fold-up side shelves and overhanging lids. Some are taller and others are wider. The larger the grill, the more likely you are to get hot spots in your cooking, but also the more fuel capacity you have available.
More heat is not always better! In fact, for limited uses, you could look at disposable charcoal grills.
That said, most people find that a grill of around 11-12″ x 13-14″ is a good size. A 12″ x 16″ grill is only slightly larger, but it does increase the available space for grilling or cooking.
Most people prefer an all-in-one design that includes the cooking grate(s), charcoal catch pan, and ash catcher. That said, some prefer to have different components so they can combine a grate and pan with a separate ash catcher.
Size of the Cooking Grate
A cooking grate is what you will grill on, and it needs to be sized appropriately for your use. The smaller the food you'll be grilling, the smaller cooking area you want. You may also prefer a grate with more or less slats.
For steak and vegetables, you may want a grate with wider slats so the food doesn't fall through. For smaller items like hamburgers (well seasoned, I hope!) or fish fillets , more widely-spaced slats work better.
Also note that the cooking grates on most grills are replaceable if they don't come large enough for your needs.
The Grill Grate
Not all grates are created equal. Look for quality materials, sturdy construction, and ideally lifetime guarantees against warping or rusting.
Some cheap grills use thin stamped metal or coated steel that won't last long or retain heat well. You can find decent grills for less than $25; these often come with one cooking grate (and sometimes an ash catcher).
Prices usually go up from there, though the materials and build quality increase as well for the best grill options.
The Charcoal Catch Pan
A charcoal catch pan can be a big tray or bowl to hold the ashes when you lift out the cooking grates for cleaning, or a more complex design with two trays.
The most important thing is to make sure it's large enough to hold all the ashes, but also easy to remove or flip out of the way.
Type of Mini Charcoal
Are you looking for a traditional American, Yakitori, or Korean style? Each style has a specific cooking approach.
If you have a family, you might want to go for a larger grill so multiple people can cook at once.
Materials
Just like with grill tongs and spatulas, stainless Steel is typically easier to clean and more durable.
On the other hand, cast iron lasts longer and tends to be better at heat retention. Look for porcelain enamel coating, but be aware that it can chip.
A non-stick surface is also nice for easy cleaning, but you want one with a high heat tolerance so you don't burn your food or cause peeling.
Either way, even the best charcoal grill will need to put up with high temperature and charcoal residue – so it'll need to be well made.
Price & Warranty
Price should reflect quality – that isn't to say that some of the cheaper grills aren't good, just that you get what you pay for.
Look at the warranty – you want to know that it'll last, even if there's a problem after years of use. If it's covered, you'll have peace of mind knowing that your investment is protected.
FAQs about The Best Mini Charcoal Grill Options
Here are some frequently asked questions about mini-charcoal grills.
How do you cook on a mini charcoal grill?
You can cook on a mini charcoal grill in several ways. The most common way is to use the grill rack to cook food directly over the heat. You can also use a indirect cooking method by placing the food to be cooked in an oven-safe dish and placing that dish on the grill rack, away from the direct heat. Another way to cook on a mini charcoal grill is to use the smoker box. The smoker box is filled with wood chips or pellets and placed next to the coals. This will produce smoke and add a smoky flavor to your food.
How much charcoal do you need for a mini grill?
For a mini grill, you'll need about 10-15 coals. A mini bag from the grocery store should last for a couple grill sessions at least.
How do you put out a charcoal grill?
You'll need to let the charcoal burn down to ash, then dispose of the ash. Never throw away hot ash. In an urgent situation, you can also pour sand or water, though you'll end up with quite a mess.
How do you start a charcoal grill?
Most charcoals are very flammable, so you'll usually only need a match or lighter for ignition. The flames should spread on their own. For raw charcoal (i.e., not manufactured & bagged like Kingsford charcoal), you might need some lighter fluid to catch a flame. A mini charcoal grill is designed for quick and successful grilling. The small amount of charcoal ensures a shorter burn time and better flavor than if it were doubled or tripled in size – so technically speaking, one bag could last you awhile!
How do you clean a charcoal grill?
To clean your grill, use an old brush to scrub the cooking grate with some steel wool or a wire scrubber. You can also use a damp cloth with soap and water to wipe down the grates, while removing any leftover food particles.
Final Thoughts on Mini Charcoal Grills
A mini charcoal grill is a great option for those who want the authentic grilling experience, without having to deal with the hassle of a large grill. The small size means that it can be easily transported and set-up, making it perfect for camping or balcony cooking. You can cook using direct or indirect heat, as well as in the smoker box, giving you plenty of options when it comes to flavor. And because they're so affordable, you can buy multiple mini charcoal grills and have one for every occasion! For indoor grilling, check out our list of George Foreman type grills. And for advanced grilling, check out our guide to pellet grills and built in grills.