Best Dehydrator for Jerky: 3+ Options for Every Use Case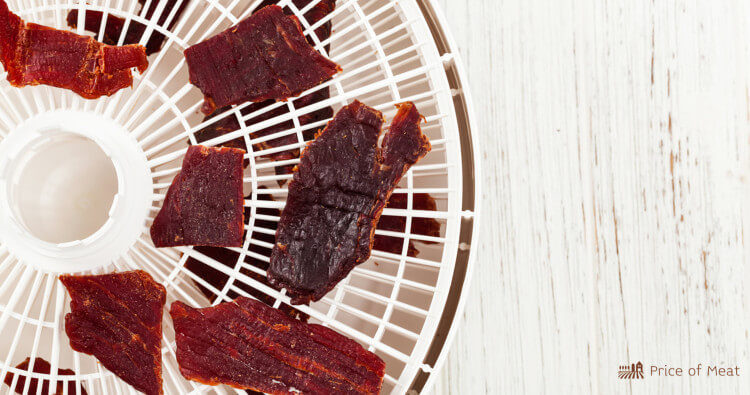 Do you love the taste of beef jerky but don't have time (or money) to pick it up at the store? The best thing about making your own is that you can control what goes into it, plus there are many benefits over store-bought (like the ability to make it gluten free). Choosing the best dehydrator for jerky can open a whole new world.
Making homemade jerky used to be complicated and expensive, but not anymore! There are now 3 popular models for every budget – small budget or large family, raw meat or pre-cooked meat. Here's how they compare in terms of features and price so you can find the perfect one for your needs.
Disclosure: As an Amazon Associate, this site earns from qualifying purchases. Thank you!
Best Beginner: Nesco FD 75A Snackmaster
Nesco FD-75A Snackmaster is the perfect choice for beginners or anyone who wants to make jerky without having to buy a dehydrator with more features than they need (i.e., an extra tray, extra temperature setting, etc).
Quick Sidenote – check out our shop for a curated selection of the best meats, cuts, sausages, and more. Open our shop in a new tab and explore!
With 600 watts of drying power, the Nesco dehydrator dries food 4 times faster than other food dehydrators and has an adjustable temperature control so you can get the best results when drying different foods that require varying temperature settings.
It also comes with five trays (13 1/2″) and expands up to 12 trays, letting you dry large quantities at once without tray rotation needed; additional trays are sold separately. The opaque exterior blocks harmful light to retain more of the food's nutrients and vitamins during the drying process. This model includes 2 fruit roll sheets, 2 clean-a-screens, a sample of jerky seasoning & cure, and an instruction book that includes 52 recipes.
he Nesco FD-75A Snackmaster is proudly made in the USA of global and domestic components. Only the powerhead is imported from China. The rest of the product is 100% made and assembled in the USA.
NESCO FD-75A Snackmaster Pro Food Dehydrator, For Snacks, Fruit, Beef Jerky, Gray
EVEN HEAT DISTRIBUTION: 600 watts of drying power provides even heat distribution; consistent drying that is four times faster than other food dehydrators
ADJUSTABLE TEMPERATURE CONTROL: The adjustable temperature control (95°F -160°F) gives you the flexibility to achieve the best results when drying different foods that need varying temperature settings
EXPANDABLE TO 12 TRAYS: Comes with five (13 1/2″ diameter) trays and expands up to 12 trays so you can dry large quantities at once with no tray rotation needed; additional trays sold separately
EXPANDABLE TO 12 TRAYS: Comes with five (13 1/2″ diameter) trays and expands up to 12 trays so you can dry large quantities at once with no tray rotation needed; additional trays sold separately
ACCESSORIES INCLUDED: (2) Fruit Roll Sheet, (2) Clean-A-Screens, a sample of Jerky Seasoning & Cure, and (1) Care & Use Guide
Best Value: Weston Food Dehydrator
The Weston Food Dehydrator is a 10 tray dehydrator that makes delicious healthy snack options like homemade beef jerky, banana chips, apple chips, fruit roll-ups and more. It's great for keto or paleo dieters because it has plenty of room to make lots of treats.
The stainless steel trays are nonstick coated so they're easy to clean. You can adjust the thermostat from 84-155 degrees Fahrenheit which is perfect for any food drying needs.
This model offers 620 watts of power and measures 14″ x 10″. There's also a rear mounted air circulation system that circulates air from back to front through each tray for consistent results in this 10 tray food dehydrator!
Best Upgrade: Excalibur 9-Tray Electric Food Dehydrator
The Excalibur 9-tray Dehydrator is the perfect choice for those who want a large capacity and versatility.
The adjustable thermostat ranges from 105 degrees Fahrenheit to 165 degrees Fahrenheit, which allows you to preserve the natural enzymes in fruits and vegetables as well as meet internal temperature safety standards for dehydrating meat for jerky.
The Excalibur dehydrator tray design also makes it easy to use – there's no need to move or rotate them during dehydration. And if you need more height, the trays can be removed easily too!
The Excalibur 9-tray Electric Food Dehydrator is made with high quality materials and has been designed and manufactured right here in America. With its compact size (15 square feet of drying space) and large capacity, it is great for families and gardeners.
Sale
Excalibur 2900ECB Electric Food Dehydrator Machine with Adjustable Thermostat, Accurate Temperature Control and Fast Drying, 400 W, 9 Trays, Black
Large Capacity: Equipped with 9 easy-to-clean Excalibur dehydrator trays, this large food dehydrator boasts 15 square feet of drying space
Accurate Temperature Control: Features an adjustable thermostat with a range of 105 to 165 degrees F – low enough for fruits and vegetables but high enough for dehydrating meat
Low & Slow for Immune Boost: The perfect dehydrator for food and jerky, dried fruit leather, fruit roll-up puree, pet treats, homemade yogurt, veggies, nuts, and even bread, it cooks food at 115-118 degrees max, which preserves nutrients and enzymes
Efficient & User Friendly: This meat and fruit dehydrator dehydrates food faster, retains more nutrients, and helps food look and taste better without tray rotation thanks to patented Excalibur Hyperwave technology and horizontal Parallex drying
Includes: Digital download Guide to Dehydration, so you can quickly and easily learn how to dehydrate all types of foods; Made in the USA with US- and globally sourced materials
Why Use a Jerky Dehydrator
When you think of the words "dehydrator" and "jerky," what comes to mind? If your answer is something like, "a dried out piece of meat that has been sitting in the sun for days on end," then it might surprise you to know that dehydrating food doesn't have to be this way!
Dehydrated foods can actually retain much more flavor than their wet counterparts. There are also plenty of other benefits associated with making jerky at home-here are three reasons why now's a perfect time to start doing so.
Control over ingredients
If you're buying store bought jerky, there's no telling what kind of preservatives or additives will be included in the mix. When you make your own jerky, you're in control of the ingredients-meaning no unhealthy additives or chemicals. There are so many good cuts for jerky in addition to exotic meat choices that you simply can't purchase at the store.
Increased convenience
This one's a no brainer – making your own jerky is much more convenient than running to the store every time you get a craving. With a dehydrator at home, you'll never have to worry about being unable to satisfy a jerky craving ever again!
Flavor and texture
Homemade dehydrated meats are far superior in terms of flavor. There's nothing quite like it-the difference is night and day. With a home dehydrator, you can choose how soft or firm you want the meat to be, ensuring that you'll never have to eat a piece of jerky you don't like again. If you pair it with a good jerky slicer, you can get the exact portions down and really do some interesting experiments like making shredded jerky.
How To Choose The Best Dehydrator for Jerky
Now that you know all the benefits of making your own jerky, it's time to choose a dehydrator. But with all the different models and brands on the market, how do you know which one is right for you?
Here are three things to consider when choosing the best dehydrator for jerky:
Budget
If money is tight, there are a few great dehydrators on the market that won't break the bank. The Nesco Snackmaster Express is a popular choice for those looking for an affordable option, and it has a wide variety of features that make it perfect for jerky-making.
Size
The more trays you have, the more you can dehydrate all at once. If your jerky making adventures are limited to snacking on an occasional piece here and there, you may not need a larger sized dehydrator.
Cooking Method
If you're using raw meat, you'll need a dehydrator that offers a temperature control. This is because you'll need to cook the meat to a safe temperature in order to kill any bacteria. If you're using pre-cooked meat, however, this isn't as big of a concern.
FAQs about Dehydrators for Jerky
Here are some commonly asked questions about dehydrators for jerky.
What is the best approximate temperature to dehydrate jerky?
How to make jerky with a dehydrator?
The short version is that you must first pre-cook or heat the meat up to 165 degrees Fahrenheit to kill all bacteria and microorganisms. Then, you'll need to follow the manufacturer's directions to dry your meat out by placing your meat in the dehydrator until it is fully dried. Ohio State Extension has full, detailed outline for making jerky.
What are the advantages and disadvantages of making deer jerky in a dehydrator?
Deer jerky made at home will typically be healthier than store-bought jerky, because there are no additives or preservatives. This means that the fat content is lower, and isn't loaded with nitrites like store-bought beef jerky. The advantage of making deer meat jerky in a dehydrator is that you can enjoy it while it's fresh! The disadvantage? Making venison jerky at home may require an investment in equipment to make the process easier (you'll need a sharp knife or slicer and a quality dehydrator). There is also the possibility of ruining your fresh venison by either over or undercooking the meat.
Do you need a dehydrator to make jerky?
No. You can dehydrate jerky in an oven as well, but it may take longer than with a dehydrator. Traditional jerky was dried in the sun or over a low fire, but those methods are not recommended by the USDA due to the safety risks of unsteady heat.
Why get a food dehydrator for jerky?
A dehydrator retains natural flavor and nutrients in meat while also making it more flavorful. It's also a safer way to make jerky with less risk of spoilage or bacterial growth. Manufacturers claim it tastes better too, because drying foods in the presence of high heat creates new flavors that are absent in non-dehydrated ground beef.
Why does beef jerky need to be refrigerated?
Jerky needs to be refrigerated since it's often not completely dehydrated. Any moisture can allow bacteria to grow.
Next Steps
We hope this article has given you some insight into the best dehydrators for jerky. If you're looking to make your own at home, there are many benefits that come with it-control over ingredients, increased convenience and flavor being just a few of them.