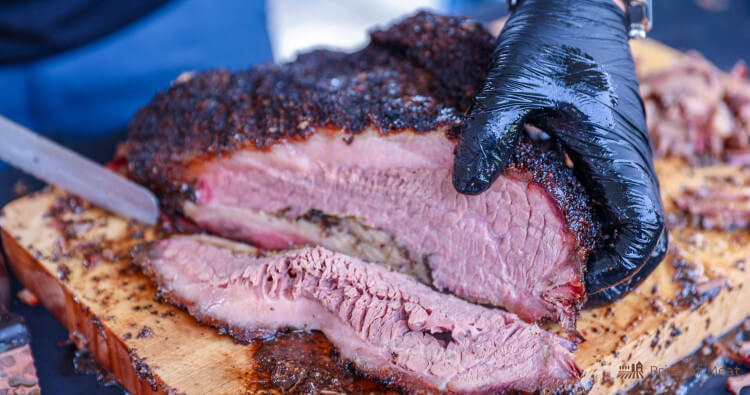 Our team might be split between Memphis and Atlanta, but love beef brisket as much as any Texan. We love the role of brisket in food culture and how a truly good brisket takes time & effort to cook well. The right wood can make all the difference when smoking a brisket, but which one do you use? Let's explore some options that might work best for your needs!
The best wood for smoking brisket
When it comes to smoking brisket, the type of wood you use can make a big difference in the end result (as much as a good brisket seasoning sometimes!). Some woods are better for smoking brisket than others, so it's important to do your research and find the best one for your needs. There really isn't a best per se – it's all about experimentation. Oak is usually best for beginners while mesquite and hickory (or pecan) will provide the best, consistent flavor. Here are a few your best options:
Oak
Oak (notably Post Oak) is a great option for smoking brisket because it has a strong flavor that pairs well with beef. It's also a fairly hard wood, which means it will last a long time and produce consistent heat.
Apple
Apple is a softer wood than oak, but it still has a strong flavor that pairs well with beef. It's also a good option if you're looking for something a little bit sweeter than oak.
Cherry
Cherry is another fruit wood that's easy to find and great for smoking brisket. It has a nice fruity, sweet flavor that pairs well with the beef, but not as strong as apple (similar to peach wood).
Hickory
Hickory wood is also a strong flavor that pairs well with beef, but it's slightly stronger than oak or apple. If you don't mind the extra flavor, hickory might be an option worth trying out.
Mesquite
Mesquite wood is commonly used for grilling because of its strong, smoky flavor. It's a good option for smoking brisket if you're looking for something with a lot of flavor.
No products found.
Pecan
Pecan is a softer wood than most of the other options on this list, but it has a slightly sweet, nutty, and different flavor that pairs well with beef. It's a good option for people who are looking for something a little different than the standard smoky flavor.
As you can see, there are many different types of wood that can be used for smoking brisket. Not all woods are created equal, so it's important to do your research and find the one that will give your brisket the best flavor profile.
Why it's important to use the right type of wood
It's important to use the right type of wood for smoking brisket because your choice might have a big impact on the final result. Some woods have a stronger flavor than others, so it's important to know which one you should use.
The brisket is the only cut of beef that is completely boneless – so it relies on the smoke to gain lots of flavor that would usually come from bone or marbling. It can be tough and requires longer cooking times.
It might be a good idea to test out a few different types of wood before picking one so you can see how they all affect the taste and texture of your brisket. Once you find the right wood, make sure not to over smoke your brisket or else it will come out too dry and tough!
Wood Type for Smoking Brisket
Now, choosing the best wood for brisket is also dependent on what type of smoker you have, what size brisket you are working with, and what is available in your area.
Wood Logs
Wood logs are an excellent way to get the most out of your smoked brisket.
The type of wood log you use can make a big difference in the flavor profile, so it's important to do some research in your own area for what is available. Generally, wood logs will be limited to what is native to your area (i.e., mesquite in Texas; Post Oak in Georgia). You'll have to shop around via local suppliers to find a good source (check your local BBQ joints!).
Wood Chips
Wood chips are a great option for smoking brisket because they produce a lot of flavor and help to maintain a consistent temperature. They do burn fast, so they might not be best for large brisket. However, they are often bagged & shipped across the country, so you'll have more choice in flavor.
Wood Chunks
Wood chunks are have a lot of the advantages of wood chips and logs without the disadvantages of either. A wood chunk will burn for a while, and are often more available than logs. They are available via online sources & local retailers.
Saw Dust
Saw dust is also a viable option for smoking brisket because it's easy to come by and provides a lot of good smoke flavor. However, it is not a heat source, and can only really be used in a small or electric smoker.
Wood Pellets
Wood pellets are likely the most convenient option, though they only really work well with pellet smokers. Companies that manufacture pellet smokers usually also have a line of wood pellet flavors and good ease of use.
Wrap-Up
Smoking meat is a great tradition that is truly about the art and science of meat. Choosing the best wood for smoking brisket isn't really about getting the #1 choice as it is about experimentation and enjoying the unique flavor profile of different woods. Here are a few other options –
Bestseller No. 1
Western Wood Smoking Chip Variety Pack of 6, 180 cu in per Bag
Variety 6 Pack of Smoking Chips
Try Western Premium BBQ Products Post Oak BBQ Smoking Chips with these American favorites: Hamburgers, Whole Chicken, BBQ Smoked Wings, or Baby Back or Spare Ribs.
Use with gas grills, electric smokers, griddles, kettle grills and ceramic grills
Bestseller No. 2
Zorestar Apple Cherry (Fruit Mix) - 15-20lb - Wood Chunks for Smoking and Grilling
🔥The Box with Apple/Cherry Wood Chunks for Smokers + Bonus Apple Chips bag weight is approximately 15-20lb (+/-5%), with their size varying between 2-3 inches each. Smoker wood chunks are a seasonal occurrence, meaning that at some point cherry chunks would be swapped out for peach and vice versa, while the bonus pack of smoking wood chips is apple at all times!
🔥100% NATURAL: being precision cut out of solid wood logs and completely eco-friendly and organic, Zorestar smoking wood chunks pose no risk of emitting any intoxicating chemicals or fumes, which results in a true smoke aroma and smoking experience!
🔥 BREATHTAKING AROMA: cherry and apple wood chunks for smokers are the perfect addition in cooking beef, pork, salmon, lamb, seafood, or game, as well as vegetables and baked goods. Giving off a mild, subtly sweet, fruity flavor, the taste you get from the apple and cherry chunk mix truly can't be compared to anything, while the addition of smoker wood chips makes it even better!
🔥 KILN-DRIED WOOD: the moisture content of bbq wood chunks and wood chips for smokers sits at 6-8%, being just the right figure to gradually smolder and emit rich, flavorful smoke at a constant rate, gifting your dish with a scrumptious smoke crust!
🔥 WORKS WITH ANYTHING: mix of fruit smoke wood chunks may be used for smoking and grilling with gas grills, charcoal grills, and all types of smokers. Just 3-5 chunks and a sprinkle of apple wood chips for smoking would be enough to smoke up any dish of your liking - enjoy!
Sale
Bestseller No. 3
Sale
Bestseller No. 4