Mortadella is a traditional Italian sausage made from finely ground pork, mixed with cubes of rich pork fat, and flavored with various spices such as pepper, nutmeg, and garli The smooth, pink-hued delicacy has a mild, slightly sweet taste and is often enjoyed thinly sliced in sandwiches, antipasto platters, or even on its own.
Mortadella's history dates back to ancient Roman times, with some sources attributing the name to the Latin words 'morta della' meaning "the death of it," which refers to the thrifty way of using donkeys and horses that pulled the plow in the sausage.
Italian cuisine is renowned for its simplicity and quality of ingredients. A wide variety of regional dishes can be found throughout the country, each showcasing local produce, meats, and flavors. Mortadella is a prime example of this culinary heritage, with its origins in Bologna, a city in northern Italy.
The traditional method of making mortadella involves grinding the meat and fat together, seasoning it with a blend of spices, and then slowly cooking the mixture in large casings. This process results in a velvety, aromatic sausage that has become a beloved staple in Italian cuisine.
5 Best Mortadella Brands
Bologna IGP
Bologna IGP (Indicazione Geografica Protetta) is a certification granted to products that are produced, processed, and prepared within a specific geographical region according to traditional methods. Mortadella bearing the Bologna IGP label is guaranteed to be of the highest quality and adhere to strict production standards.
Many brands produce Bologna IGP mortadella, but some of the most renowned include Ferrarini, Felsineo, Veroni, and Rovagnati. These companies all share a commitment to preserving the time-honored techniques of mortadella making, resulting in a product that is truly representative of the Bologna region.
While there are countless brands producing mortadella, some stand out above the rest in terms of taste, quality, and authenticity. The following are five of the best mortadella brands you need to try now:
Ferrarini
Ferrarini is a well-known Italian brand that has been producing high-quality cured meats since 1956. Their mortadella is made using traditional methods, with finely ground pork and hand-cut cubes of fat, which are then seasoned with a blend of spices and slow-cooked to perfection.
Ferrarini's mortadella has a tender texture and a delicate flavor that makes it an excellent choice for those seeking an authentic taste of Italy.
La Bolita
La Bolita is a small, family-owned company that specializes in crafting artisanal Italian sausages, including mortadella. Their products are made using only the highest quality ingredients, sourced from local farms and producers.
La Bolita's mortadella is characterized by its rich, complex flavor profile, with notes of garlic, nutmeg, and pepper coming through in every bite. This brand is perfect for those who appreciate a more robust, full-flavored mortadella.
Slow Food La Sabrosa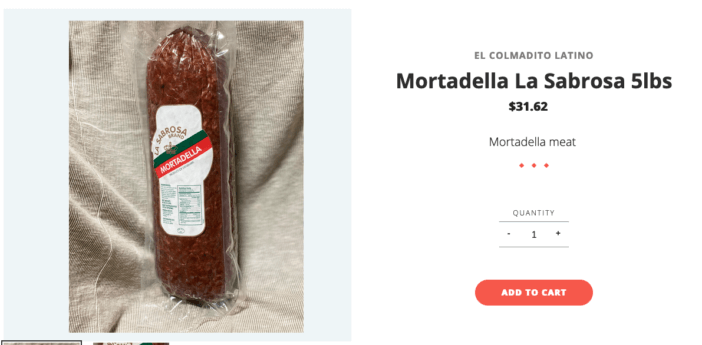 Slow Food La Sabrosa is a brand that is dedicated to the principles of the Slow Food movement, which promotes the use of local, sustainable ingredients and traditional cooking methods. Their mortadella is made from select cuts of pork, seasoned with natural spices, and carefully cooked to maintain the integrity of the flavors.
The result is a mortadella that is not only delicious but also supports ethical farming practices and the preservation of culinary heritage. This brand is an excellent choice for those who value sustainability and quality in equal measure.
Piccolo
Piccolo is a boutique producer & retailer of artisanal Italian meats, including mortadella. Their products are handcrafted in small batches using only the finest ingredients, ensuring a level of quality and attention to detail that is unmatched by larger brands.
Piccolo's mortadella features a subtle blend of spices and a silky texture that melts in the mouth, making it an exquisite addition to any antipasto platter or sandwich. For those seeking a truly luxurious mortadella experience, Piccolo is a must-try brand.
Dolceterra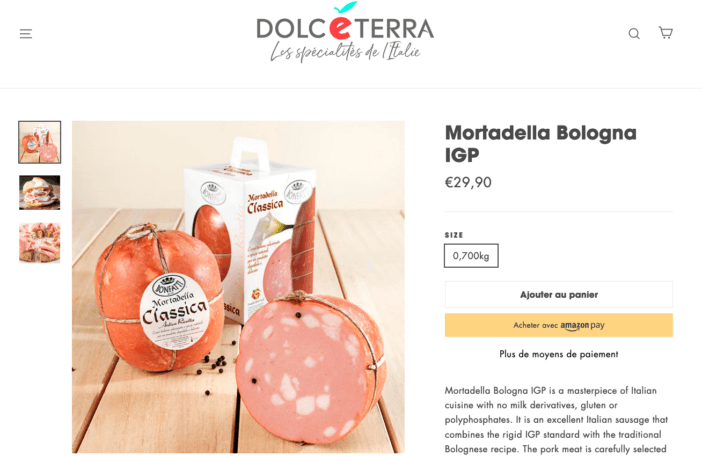 Dolceterra's mortadella is made using traditional Italian recipes and high-quality ingredients. The brand is known for its commitment to preserving the authentic taste of mortadella, ensuring that customers enjoy a genuine Italian experience with every bite.
Merve
Merve is a brand that offers a variety of mortadella options, including those made with chicken, beef, or turkey. This brand caters to customers who prefer halal or kosher products, making it a popular choice in countries like Morocco, Algeria, Egypt, Iran, Iraq, Syria, Lebanon, Jordan, Palestine, United Arab Emirates, Qatar, Saudi Arabia, Kuwait, and Israel.
PastaCheese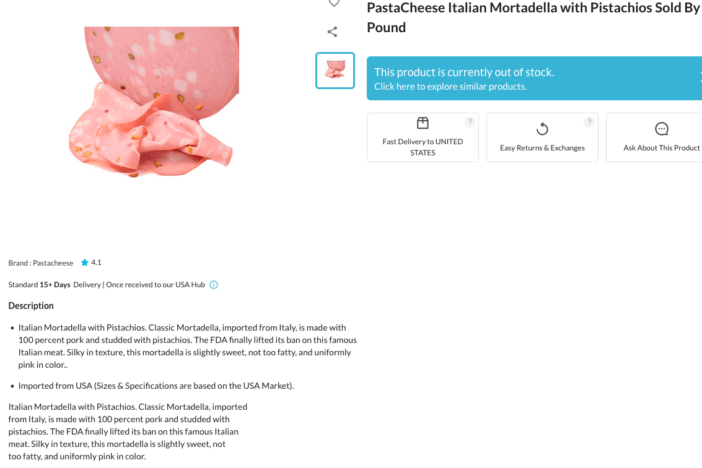 This brand is known for its high-quality mortadella made from premium pork. PastaCheese's mortadella is characterized by its smooth texture, rich flavor, and the perfect balance of meat and fat.
Fortuna's
Fortuna's mortadella is made using traditional Italian methods and recipes, ensuring an authentic taste and texture. The brand is known for its commitment to quality, using only the finest ingredients in their products.
El Latino
El Latino offers a delicious mortadella that is popular among consumers for its rich flavor and smooth texture. The brand is known for its commitment to quality and authenticity, using traditional Italian recipes and methods in their production process.
Where to Buy
Now that you've learned about the best mortadella brands, the next step is to find out where you can purchase these delicious products. Here are some options:
Supermarket Italy
Supermarket Italy is an online retailer that specializes in offering a wide range of authentic Italian products, including mortadella from various top brands. They provide convenient shipping options and even offer a subscription service for regular deliveries of your favorite meats.
Amazon
Amazon is another excellent option for purchasing mortadella, as they carry many of the brands mentioned above. Be sure to search for the specific brand you are interested in and read reviews to ensure you are getting the best quality product.
Sale
Bestseller No. 1
Bestseller No. 2
Bestseller No. 3
Delis
Many local delis and specialty food stores carry a selection of imported Italian mortadella, allowing you to sample different brands before committing to a purchase. This is an excellent way to discover new favorites and support small businesses in your community.
Local Markets
Farmers markets and other local food events often feature vendors selling artisanal cured meats, including mortadella. These markets are a great opportunity to purchase products directly from the producers and learn more about their unique methods and ingredients.
Authentic Italian Producers
Finally, consider reaching out to the producers themselves, as many of them offer direct sales through their websites or retail locations. This option not only guarantees the freshest product but also allows you to learn more about the production process and the people behind these delicious sausages.
What is the best Italian mortadella brand?
The best-known Italian mortadella brand is Ferrarini Mortadella, which is protected by the IGP (Protected Geographical Indication).
Is mortadella basically bologna?
Mortadella is not exactly the same as bologna, but it is an Italian cold cut with a similar taste and texture to the American bologna meat.
What do Americans call mortadella?
Americans often refer to mortadella as bologna, which is derived from Italian mortadella but has some differences in ingredients and flavor.
Does Boar's Head make mortadella?
Yes, Boar's Head does produce a version of mortadella, which is an Italian-style deli meat made with high-quality pork and traditional spices.
Final Thoughts
In conclusion, mortadella is a delicious and versatile Italian sausage that has been enjoyed for centuries. With its tender texture, delicate flavor, and rich history, it's no wonder that this culinary staple has become a favorite among food lovers worldwide.
By trying the brands mentioned above, you'll experience the best that mortadella has to offer and discover a world of flavors that will delight your taste buds. So why wait? It's time to indulge in the mouthwatering world of mortadella – buon appetito!